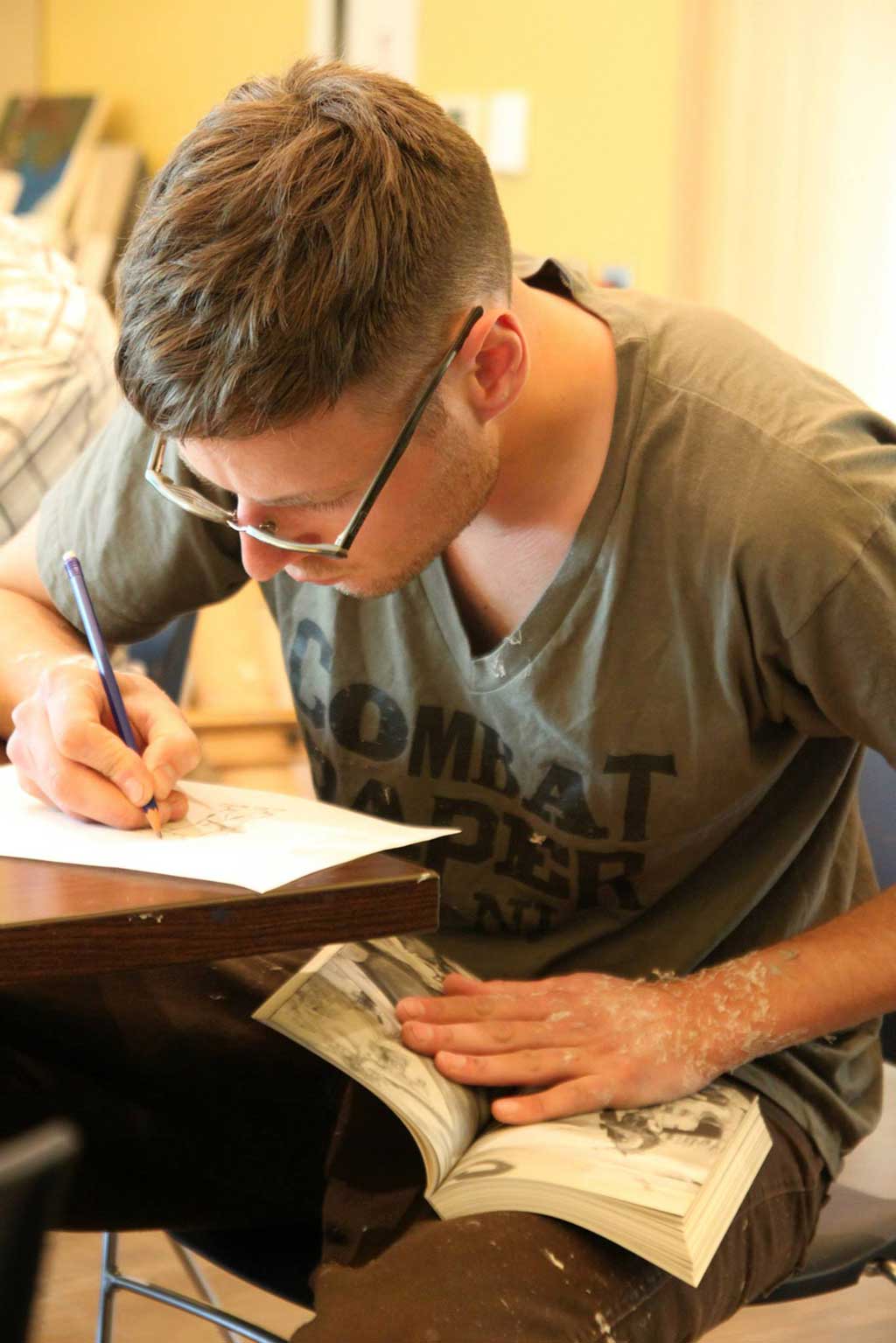 Nathan Lewis at work
Nathan Lewis, who served in Iraq in an Army artillery unit, "is a master papermaker and writer, living in the farmland outside Trumansburg [NY]. He is one of the thousands of veterans who report symptoms of PTSD, but Lewis prefers the term 'war trauma,' because it's more accurate," noted a profile in The Ithaca Voice.
A Combat Paper and Warrior Writers instructor who helps run workshops and retreats from Maine to Virginia, Nate Lewis' work as an organizer of art, writing and organic farming projects to assist veterans in coping with war trauma has been profiled in The New York Times, as well as in local publications in upstate New York. He is also an author of two collections of his poetry, prose and art that were handmade and published under the imprint of Combat Paper Press. His signature art work incorporates spray painted impressions of bullets, dog tags and other war artifacts.
Selections of Nate Lewis' work will appear in "Combat Paper & Beyond," an art exhibition running June 18 through July 9 at the Puffin Cultural Forum, 20 Puffin Way, Teaneck, NJ. The art show grand opening is Saturday, June 18 at 4 pm.
The exhibit explores the vision of the Combat Paper Project through innovative artwork created by veterans and non-veterans. Multi-media work by Eli Wright is featured with additional works by award-winning artists Jim Fallon, David Keefe, Rachel Heberling, Elisabeth Smolarz, Frank Wagner, Ron Erikson and others.
How to Make a Combat Paper Book
Inspired by Chris Arendt's How to Make Combat Paper

By Nathan Lewis

1. Play Army in the woods
2. Put up F-14 Tomcat Jet-Fighter wallpaper above your bunk bed
3. Agree to a pizza date with the local Army recruiter
4. Graduate high school, watch the planes hit the towers, graduate basic training
5. Mix 1 part nationalism with 1 part college money, stir in ½ baked optimism
6. Train, get desert gear, deploy to Iraq
7. Arrive in Kuwait, breath fumes from oil wells
8. Drive to Baghdad, load munitions onto truck, repeat for 3 months
9. Get flat tires, stares from Iraqis and meet friendly kids
10, Forget to strap down box of hand grenades, take a turn too fast, spill onto busy street, keep driving
11. Take pictures, don't change clothes, eat meals out of metal pouches
12. Watch traffic accidents, watch the truck in front of you burn,
watch commanders get blown off burning truck by mortar rounds
13. Return home, get drunk, grind kitty litter into oil stains in motorpool, repeat for 3 months
14. Get out of the Army, enroll in college, get a job
15. Think about steps 1-13 often
16. Start writing, in groups, alone, in public, in the basement, repeat for 6 years
17. Read WWI poets, read Vietnam War poets, read Iraq War poets,
become inspired by peers of the past and present
18. Collaborate, Collaborate, Collaborate
19. Start your first book with a poem about shitting in the sand
20. Send book to Harvard and your Grandparents
21. Ask for help, receive it, be grateful, live simple, speak your mind, plant seeds
22. Help others with steps 14-21, feel good again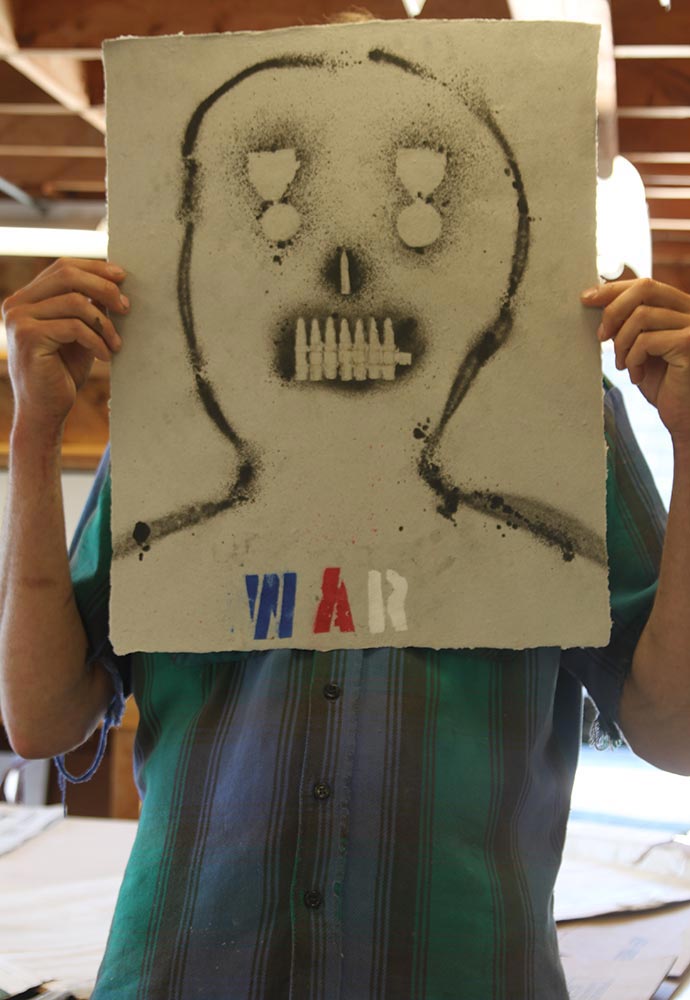 photos: warriorwriters.org