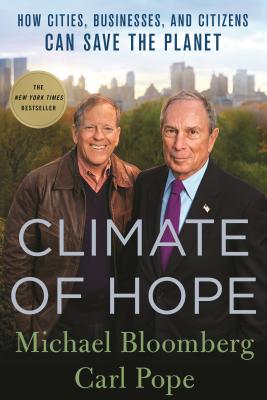 Climate of Hope: How Cities, Businesses, and Citizens Can Save the Planet
burst into the public arena just before Earth Day. A joint communique by former New York Mayor Michael Bloomberg and former Sierra Club Executive Director Carl Pope, the heavily promoted book presents a formidable counterweight to the Trump administration's assault on climate change action and environmental protection regulations.
In a remarkable networking move, the billionaire businessman and the backpacker environmental activist present a comprehensive plan for a grassroots campaign on climate change that builds on actions already begun in cities and states across the US and around the world. Writing in alternating chapters, they make a case for local civic actions to set the pace on addressing threats to the environment.
"No matter what happens in Washington, no matter what regulations the Trump administration adopts or rescinds, no matter what laws Congress may pass, market forces, local (and in some cases state) governments, and consumer demand for cleaner air will, together, allow the United States to meet and exceed the pledges that the Obama administration made in Paris," Bloomberg contends. "The reason is simple: cities, businesses, and citizens will continue reducing emission, because they have concluded … that doing so is in their own self-interest."
Pope argues that "during the Progressive era at the start of the 20th century, it was cities and states that forged the new policy instruments that eventually became the New Deal, rather than waiting for Washington. Mike Bloomberg and I believe that political leadership in the United States, and elsewhere, will come from below, not from national elites, which remain in thrall to the fossil lobby and other entrenched interests."
It's an approach that surely appeals to Sierra Club campaigners. "As the director of the Sierra Club's
Ready for 100
campaign," Jodie Van Horn wrote in a review on the Sierra Club website, "I am heartened that Bloomberg and Pope see the battle against global warming as one that can be effectively waged at the municipal level, irrespective of the current regressive political climate in Washington, D.C., and lack of leadership emanating from Inside the Beltway.
"Ready for 100 is asking mayors, pastors, principals, civic and community leaders, parents, and students in cities large and small to commit to solutions that will help us achieve 100% clean energy across the United States by 2050," she continued, noting that 26 cities have already committed to the 100 percent goal, including San Diego, San Francisco, and Salt Lake City.
It's an approach that also appeals beyond liberal enclaves such as New York and the West Coast. Matthew D'Ancona, a conservative political columnist in London, likes the networking of local government leaders on environmental issues described in this book.
"Bloomberg has been UN special envoy for cities and climate change since 2014, and is the driving force behind the Global Covenant of Mayors for Climate and Energy, a coalition of 7,000 cities in 112 countries," D'Ancona noted in a recent book review in the London Evening Standard. "Because mayors are engaged in such a specific and detailed way with the needs of their cities — and are daily accountable to their voters — they are perfectly placed between individual citizens who often feel powerless and national governments that move at a snail's pace in their quest for global collaboration."
"
Accordingly," the British journalist continued, "there is much here for our own city authorities — and every newly-elected metro mayor — to learn from. It is a model text for those who argue that decentralisation works best and that most of the challenges facing humanity in the 21st century require localised solutions."
In response to a question on WNYC Radio's "Morning Edition" about the bitter political divide in the US on climate change, Pope pointed out that pragmatism is often more powerful than politics at the community level.
"It's a very partisan issue at the national level," Pope said. "But if you get down to the local level and you look at which cities are choosing to embrace clean energy, it turns out the first big American city to say it was going to be a hundred percent renewable was San Diego, which has a Republican mayor. Another big city that has said it's going to go 100 percent renewable is Salt Lake City, the largest city in the reddest state in the country.
"