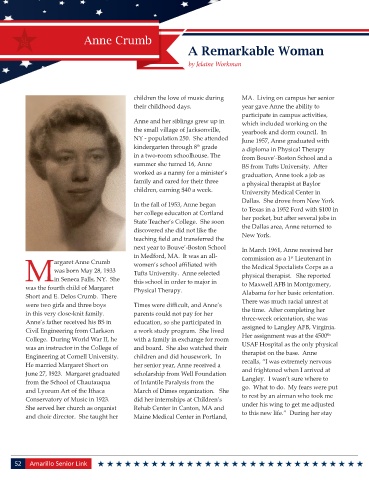 My aunt, Margaret Anne Crumb, died recently in Amarillo, Texas. She was 85 and in ailing health but had a much younger, spritely spirit. For years I stopped by to visit during cross country road trips, trading travel tales and other yarns. She'd seen much of the world in an Air Force career, retiring as a lieutenant colonel. Among other things, she drove long haul, semi-tractor trucks during a colorful life after moving to Texas.
My first vivid memories of Aunt Annie have to do with "slow poke passing" in our 1950s cars on a country road when I was a teenager. About that time, she joined the Air Force as a physical therapist. About a year later, I joined the Army and visited her on a weekend pass at her bayside place outside Langley Air Force Base in Virginia. Then I went to Vietnam and she went to Libya. Our lives went in different directions. But we stayed in touch over the years.
Home base was the Taughannock Falls area of New York's Finger Lakes, where we occasionally met up at family gatherings. One summer Anne announced that she preferred living in Texas. When I swung by her place in Amarillo on a drive to California after I retired from newspaper work, I learned why. She liked the wild flowers, the wind-swept vistas, the wide open skies of the high plains. She had friends who'd turned an empty shopping center into an artists' colony. She loved rambling out of town to the jaw dropping splendor of Palo Duro Canyon.
About a decade ago, she moved into a senior living complex, as various ailments cramped her hands and walking became progressively hazardous. She gave her kayak to younger relatives. She enjoyed entertaining visitors, venturing out to a favorite Mexican restaurant next door. Checking in on her during the Covid crisis last summer, I found she'd moved to a state veterans' home.
Amarillo Senior Link magazine in 2019 profiled her in a special issue honoring military veterans. My favorite anecdote in this account tells how after graduating from college in 1957, "Anne took a job as a physical therapist at Baylor University Medical Center in Dallas. She drove from New York in a 1952 Ford with $100 in her pocket."